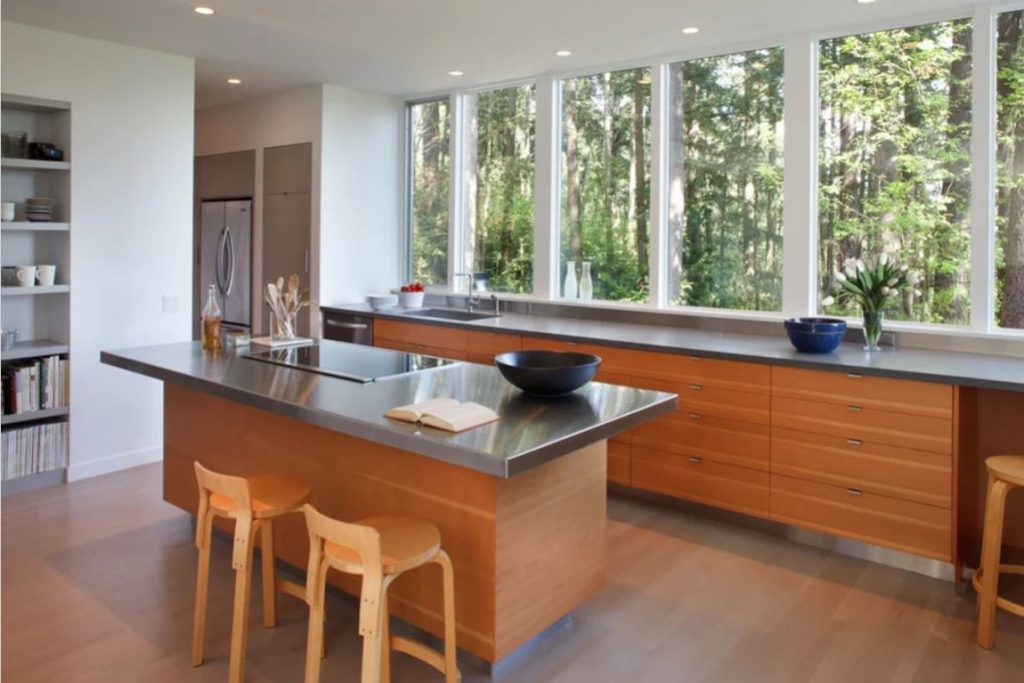 Property and home improvement shows are more popular than ever – and according to those experts, a kitchen remodel is one of the most effective ways to maximize your budget for home renovation. Stainless steel's durability and stylishness make it a great construction material and design element in a kitchen. Whether used to equip a sleek industrial space, adding modern touches to classic or mid-century design, or used for cookware and utensils, consider the benefits of using stainless steel to update your surroundings.
5 Reasons to Use Stainless in Your Kitchen
Durability: Stainless steel is the standard in the restaurant industry for good reason; it's strong, rust-free, and resists heat damage! Grade 304, the most commonly available type of stainless steel, will hold up to the daily wear of food preparation and cleaning because it is a non-reactive metal. This makes it incredibly versatile for everything from appliances and cutlery to pots and pans. Metals like copper or aluminum will react to acidic ingredients such as vinegar, discoloring its shiny finish and adding unpleasant flavors to your food. Countertops made of stainless steel can hold up to heat, liquids, and cleansers without negative effects – the same treatment which can crack or stain granite surface
Low Maintenance: The addition of chromium to produce stainless steel makes it very resistant to oxidation, which can rust and wear down other materials. Whether it's exposed to water in a kitchen sink, high temperatures in a barbeque grill, or the cold of a freezer, stainless steel requires little maintenance to keep it looking its best. Stainless steel cabinets will not warp, making them ideal for high humidity or outdoor cooking areas.
Style and Versatility: Despite what you may think, stainless steel is not simply for those who like minimalist or industrial design! It coordinates well with any color or décor and makes for easy matching between your appliances, fixtures, and pots and pans. Cabinets or countertops with a high shine finish can help brighten a dim kitchen area. Appliances made of brushed-finish stainless steel give an elegant glow. Blended with natural materials such as wood and stone, stainless steel helps to give a timeless yet modern look to your kitchen.
Hygiene: Stainless steel is a non-porous material. This means its surface doesn't allow air or liquid to pass through, which prevents the growth of bacteria within the steel. So kitchen surfaces and implements can be easily and thoroughly cleaned. Stainless steel makes an ideal choice for kitchen sinks and backsplashes since it can hold up remarkably well to regular use, water, and household cleansers.
Eco-Friendly Material: Nontoxic, long-lasting, and recyclable: stainless steel makes an environmentally-friendly choice of material for your kitchen and home. When treated with care, the durability of stainless steel means your appliances, décor, and cookware will last for many years, preventing excess waste and landfills. The easy cleanup for stainless steel – just soap and water – helps to cut down on the use of chemicals. As consumer demand increases for sustainable choices, consider the advantages of building and outfitting your kitchen with stainless steel. Its long life makes it a good choice for your finances, and for the good of our communities.
FastMetals is your online supplier for Stainless Steel Sheet.  Talk to us about what you are planning for your home improvement, we do custom cutting to fit your specific needs.